Documenta Archaeobiologiae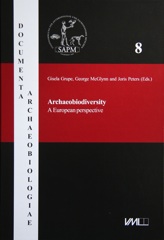 The Documenta Archaeobiologiae (DOAB) is the joint publication series of the Bavarian State Collection of Anthropology (SAM) and Palaeoanatomy (SPM). It publishes original research papers, focus articles and short articles as well as monographs in the field of interaction between natural sciences and archaeology. Emphasis is placed on the presentation of research results obtained using the material of bioarchaeological collections.
The aim of the compilation volume is to present the research potential of our collection and to strengthen the dialogue between natural sciences, especially biology, and cultural or social sciences in order to obtain a complete historical picture. Preserved remains of humans, animals, and plants are important empirical sources that provide clues about, for example, the development of historical populations, animal and plant domestication and use, and historical environments.
Documenta Archaeobiologiae was founded in 2003 by the former directors Prof. Dr. Gisela Grupe and Prof. Dr. Joris Peters. The editors are Prof. Dr. Joris Peters (SPM) and Dr. George McGlynn (SAM).
The publication is available in English or German.
Contact
Dr. George McGlynn
Bavarian State Collection for Anthropology (SNSB-SAM)
Tel: +49 89 5488 438-12
E-mail: mcglynn@snsb.de
More Information :
For more information on ordering and content of the published volumes, please contact here.
Documenta Archaeobiologiae – Instructions for authors
Documenta Archaeobiologiae – Guide for submittal